About Us
To save the beauty of nature Japan possesses for future generation...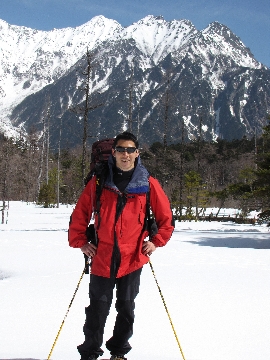 Kamikochi in winter
When traveling all over the globe, I find Japan is such an attractive country with its wide range of climate variations due to its geographical feature and distinguish four beautiful seasons despite its size.
But the natural disasters alleged to be occurring from the global warming due to damaging to our environment are causing out-of-season heavy snow falls, torrential rain and unpredictable natural disaster these days, that we are losing our precious, beautiful 4 seasons.

"I hope to preserve this beautiful country as best as it could be to pass it to our future generations."
It is my wish to help any of you who joined our tours feel the same way as we do just by seeing, listening and feeling what you are experiencing and start making some actions to make things changed through our tours.

Discover Japan Tours
President Yosuke Yokokura
Company
Foundation Date
June, 2010
Name
Discover Japan Tours
Office Address
Tokyo JAPAN
TEL +81-3-3313-3975
FAX +81-3-3313-3975
Licensed by
Tokyo Metropolitan Government Office : No.2-6323
Registration Date
June, 2010
Expiry Date
June 2nd, 2025
Attribution
A member of All Nippon Travel Agents Association
Business Contents
1. Planning and sales of domestic small group tours
2. Planning and sales of overseas' small group tours
3. Guiding and conducting for above tours

Main Banking
Mitsui Sumitomo Banking Corp.
Name of the Chief Travel
Administrator
Yosuke Yokokura
About Yosuke Yokokura
Name
Yosuke Yokokura
Date of Birth
Dec. 31st, 1970
Educational Background
1989 Graduated from East High School in Denver, Colorado
1990 Graduated from Meiji Gakuin Higashimurayama High School
1994 Graduated from Meiji Gakuin University
Bachlor Degree in International Studies
Career History
1994 Tokio Marine and Fire Insurance Co. ltd.,
2006 Visa International
2008 American Family Life Assurance Company in Columbus
2010 Founded 'Discover Japan Tours'
Athletic History
・Swimming 3years (Primary school)
・Baseball 3years (Primary school)
・Track and Field 3years (Junior high school)
・American Football 17years (High school to 2001)
I am currently enjoying mountaineering, trekking, bike riding,
jogging, etc.
Self Introduction
Hi, My name is Yosuke Yokokura, the President of Discover Japan Tours.
Thank you very much for visiting our web site.
I like to be in the nature since my childhood, and lots of travel
experience made me realize that it is a great oportunity to introduce this beautiful country to people all around the world.
So I finished my 15 year-career as an office worker and founded
this company in July, 2010.
I think no other countries, but a few have such a beautiful four seasons and different colors like we have in Japan.
I assume everyone has its own sense of value,and different perspectives,
but I will be happy if I could share the same moment with you looking at the beauty of Japan.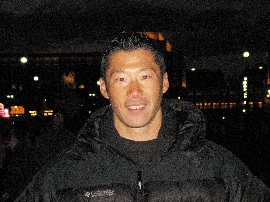 Yosuke Yokokura (in Paris)